Meeting and Events
Meet and impress your colleagues with a venue that contributes to a social cause.
YWCA Fort Canning is an ideal venue for all kinds of events from small, intimate gatherings to large corporate events and wedding banquets. It is strategically located in the heart of Singapore between Orchard Road and the Central Business District and is accessible by public transport. Our experienced staff will take care of all the details so your event will be successful and memorable.
To book, please call (65) 6335 8012 or email ywcabanquetsales@ywca.org.sg.
Year-End Events that Make a Difference
Make it a year-end party that makes a difference!
When you let our expert in-house teams set the scene for your company celebration this year at our Sophia Cooke Grand Ballroom, you are also making a difference to our community. All our net proceeds go towards YWCA's community service programmes that help the needy.
Book with us from today till 31 December 2023 to enjoy our special year end meeting packages. Find out more from our events specialists today!
Slideshow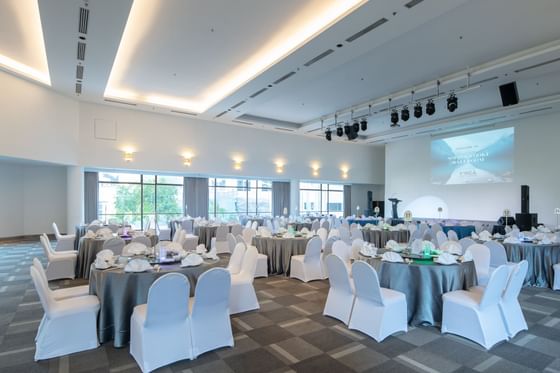 Sophia Cooke Ballroom
The column-less Sophia Cooke Ballroom has a raised stage and high ceiling which can accommodate up to 500 people. This grand ballroom has been used for many conferences, dinner banquets and celebrations.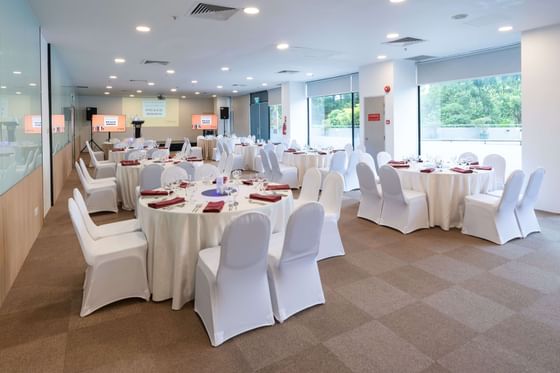 Peace Room
This spacious hall located at level 3 beside the swimming pool can accommodate up to 155 persons for a cocktail party and up to 140 persons for dinner banquets.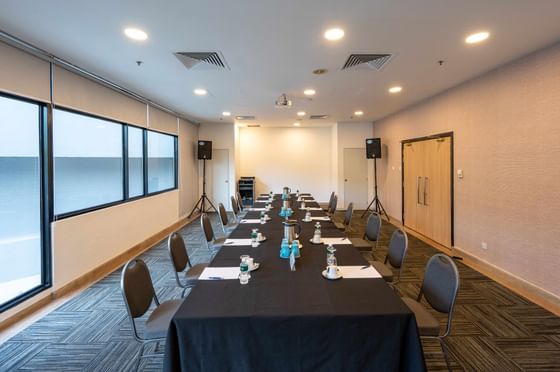 Love & Charity Room
This meeting space can accommodate up to 80 persons in theatre seating.
MANY MORE MEETING SPACES
Choose from our many private function rooms which provide flexible space arrangements to accommodate varying group sizes.
For your convenience, when you book our function rooms, it comes with complimentary use of comprehensive meeting facilities such as LCD projector, sound system and microphones.
Amenties
Enjoy these complimentary meeting facilities when you book any one of our function rooms.
Capacity Chart
| Room | Floor Area (sqm) | Banquet (pax) | Theatre (pax) | Classroom (pax) | U-Shape (pax) |
| --- | --- | --- | --- | --- | --- |
| Sophia Cooke Grand Ballroom | 425 | 270 | 450 | 180 | 85 |
| Peace Room | 192 | 140 | 165 | 72 | 50 |
| Hope & Faith Room | 114 | 90 | 90 | 40 | 30 |
| Love & Charity Room | 89 | 70 | 80 | 40 | 30 |
| Grace Room | 81 | 60 | 70 | 35 | 25 |
| Joy Room | 68 | 50 | 55 | 30 | 20 |