A Meaningful Venue to Say I Do
"While weddings are already meaningful in and of themselves, going the extra mile to celebrate a lifetime commitment of love and charity alongside YWCA is something else." - Blissful Brides Magazine.
We are so proud to be named Blissful Brides' Editor's Choice Winner 2021 & 2022!
It has been a privilege for us to see happy couples tying the knot at YWCA Fort Canning.
We will continue to help make beautiful wedding dreams come true, and in a meaningful way.
All our net proceeds go towards YWCA's community service programmes so your wedding will also make a real difference to the lives of many needy beneficiaries.

Our Sophia Cooke Grand Ballroom is an ideal place to hold your dream wedding banquet. This column-less grand ballroom comfortably accommodates up to 30 tables where your guests can enjoy a sumptuous banquet feast and an unblocked view of the raised stage.
Peace Room is another spacious hall looking out to our outdoor swimming pool. Couples can also choose to say "I do" with a romantic outdoor wedding ceremony by the pool before adjourning indoors for the dinner banquet.
We also have many beautiful venues for more intimate celebrations so let our Wedding Specialists show you around!
Celebrate Your Special Day in the Heart of the City
Wedding Packages
Customised and affordable wedding packages with complimentary stay in our spacious bridal suite.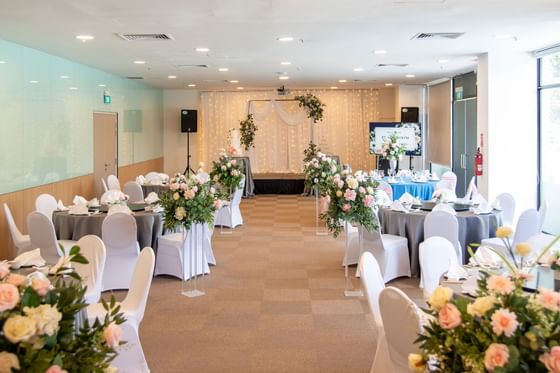 Dedicated Wedding Specialists
Let our Wedding Specialists take care of all the details so you can focus on your big day.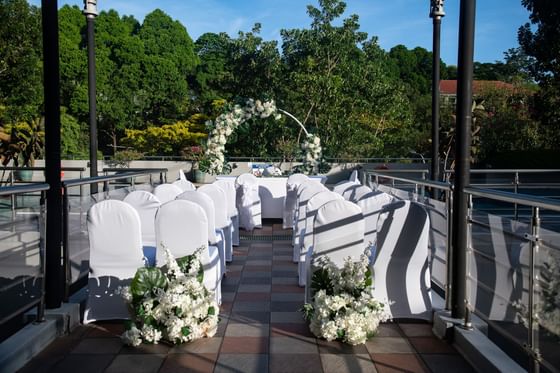 Outdoor Weddings
Host your solemnisation by the poolside or at our al fresco courtyard and adjourn to our beautiful Peace Room for the banquet.
Was initially assured that this was a hotel that prioritised their wedding couples, and focuses on providing them with an experience of a lifetime! We were certainly not disappointed! We scoured through 200 venues in preparation for our wedding, and eventually decided on YWCA because of the service and what they offered!
The food was excellent, with our guests raving about it long after our wedding was over. While we won't be getting married again, we'll be back - perhaps to host Chinese New Year family meals!

Thanks again, team! You guys helped our marriage get off to a great start :)
Our friends had their wedding here over the weekend.

Besides the beautiful hall and food that received compliments from many guests, what really impressed us was the good attitude of all the staff.

You will receive 5 star service here!
On the event day, I was taken aback at how gorgeous the whole set up was. The food was perfect (as the bride I finished all the food except the 7th course because I was too full) and the female banquet staff even assisted me to hold my gown up when she observed I needed assistance.

Thank you for the wonderful service and memories!
Brother had a wedding dinner at this hotel. I would like to give a thumbs up to the event manager who had everything well arranged and organised. His hosting and banquet crew are amazing too. All guests left the dinner with full tummies and were very happy with the service. Cheers!


Weddings That Make a Difference!
Check out our beautiful indoor & outdoor wedding spaces, delectable cuisine and lovely wedding themes.
Request for Wedding Or Solemnisation Package Proposal
For more information on package deals and reservations, you may also call +65 6335 8090 or email ywcaweddings@ywca.org.sg
Prices are subject to 10% service charge and 7% GST.